It is absolutely true that the self-employed lifestyle and working for yourself is the key to freedom and maybe the only way to True Lifestyle Freedom.
 An employee, even an employee who loves his work, makes good money and has no real desire to work for their self will never experience the self-employed lifestyle. If you are an employee, no matter how good your job, position or title is you will always be working for someone else's dream. Your employer, Boss will always dictate when and how long you work each day, when you take lunch, how much time you have for your family, how you will spend your holidays, and the list could go on. That is NOT freedom and it is not the self-employed lifestyle.
Please do not misunderstand my message. Being self employed and experience the self-employed lifestyle is not easy, and is not for everyone. You must work extremely hard to be successful at anything, certainly including building your own business. But thanks to the amazing advancements in technology having a successful home business is easier than it has ever been. Technology like to Email, the Internet, Social Media and Strategic Communities of Entrepreneurs has made the self-employed lifestyle a reality and not a dream or fantasy. The technology of today gives the Home-based Business Entrepreneur the ability to build a simple, yet power business that can be managed from anywhere in the world.
The Why? for Self-employed Lifestyle
Typically the driving force for starting a business, besides money, is the freedom and the chance to live self-employed lifestyle. The ability to choose your own path in life, control your own destiny and do the work you are passionate about and really enjoy! Freedom is the ability to do what you want, when you want, whenever you want and enjoy the rewards of your work and efforts without limits.  The freedom to your work from where ever you choose and NOT be confined to the Cubical Lifestyle that so many find themselves trapped in. Most of us who take the leap of faith and go into business for ourselves do it so they can "Live the Dream."
Successful people are positive people who believe in themselves and have a burning desire for more; they believe they should enjoy ALL the World has to give. Successful people believe in Abundance and the ability to create with thoughts. That the Human Mind has the ability to create all that it can envision. Here are a few other characteristics to help build a Successful Business and enjoy the self-employed lifestyle
Remove Fear from Your Thoughts
Successful people can manifest goals and are willing to take risk. Being a risk taker is a key component to being a successful business owner. To be an effective risk taker you remove the fear of failure; failure is an illusion. You cannot be successful without failing and learning from the mistake. Always maintain the belief that you will succeed and there is no obstacle that can stop you from achieving your desired goal.
Network Often
[Our Community of Leaders & Mentors]
FREE LIVE TRAINING THIS WED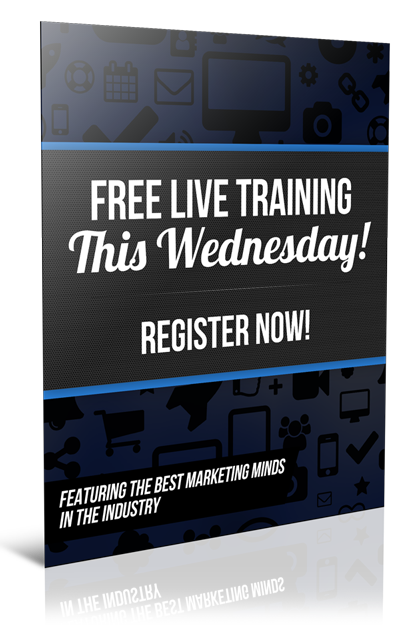 LIVE webinar with a 6-Figure Earner this Wednesday! Get strategies to help YOU get more leads & Profit in YOUR Business
Networking is a key component in being successful. Networking is the way You, Your Product, and Your Services become known, visible to those you help, Your Target Market. Networking also allows you to surround yourself with other successful business owners who have the same beliefs and mindset as you. A Community of Successful Entrepreneurs that wants to mentor and help you, provide Advice and Education, and help you maintain your beliefs and motivation is invaluable. Effective ongoing networking can accelerate you towards your business and financial goals.
Trust Your Gut…
Better said "Trust your Intuition"and believe in yourself! The brain is an amazing tool that compiles these thoughts, emotions, and experiences to assist you in reading and judging situations. Intuition is very important in determining opportunities. Learning to trust your intuition and have faith in that inner voice is part of loving yourself and learning to trust your own abilities.
To-Do Lists – Daily
The most successful entrepreneurs start every day with specific purpose! Starting each day with clear, specific purpose is a major key to being successful. Without a clear, specific goal and action plan you will be inefficient with your time and successfulling achieving your goals will be delayed.
To All The Was Intended To Be!