Have you just started a home-based business? Perhaps you're currently researching how easy (or hard!) it will be to get your business up and running? If so, you've struck gold (well, we think so anyway) because today we're going to
talk about home-based business marketing tips and how you can build a presence for your business. With so much competition in every single niche these days, the only way you're going to see success is if you can market your product or service properly.
Before you start panicking, this doesn't have to be an expensive exercise. When people hear 'marketing' or 'advertising' they think of what they hear on the news or placing an ad on the TV. In years gone by, marketing was an exercise only affordable by the biggest companies. Nowadays, you can get started on social media, website forums, and a variety of other locations. Without further ado, let's launch into the main tips we have for you!
Home-Based Business Marketing Tips
#1: The Basics
Before doing anything else, we urge you to get the basics in place because there's no point in marketing a brand if you haven't finished your website or developed a product. After developing a professional website, make sure it has all the relevant details on it including your contact information, what you can offer, where people can buy your product/service, etc. Despite being fundamental, this is something many home-based businesses get wrong every single day.
In addition to your website, make sure you're in a position to start selling immediately. If you start marketing your product when you aren't ready and then you receive 100 orders, what are you going to do? After apologizing for the inconvenience and offering a small discount as compensation, your brand will take a huge hit before you've even got started.
#2: Social Media
As we've already mentioned, social media is absolutely huge these days. With the likes of Twitter, Facebook, and Instagram, you won't have to pay a cent to get started and you have immediate access to millions of people all around the world with hashtags, Facebook groups, and friends/followers. This is one of those home-based business marketing tips you do not want to miss!
While on the topic of social media, we should mention that Facebook, Twitter, and Instagram aren't the only three social networking sites. In truth, you might not even find your target market on any of these sites (although unlikely). When assessing the right social media site to use, we recommend drawing up a profile of your average consumer before thinking about where they can be found from Pinterest to YouTube and even Digg.
#3: Create Videos
In 2017, the world is going crazy for videos and this is only going to continue in the future. When it comes to home-based business marketing tips, they come no bigger that this in terms of trends. On YouTube, social media, and on your website, be sure to join this video trend to talk about your business, the industry as a whole, and how you can help people. As long as the content is genuinely useful (and it has an interesting first five seconds), people will stop and watch as many companies will attest.
#4: Get Offline
Yes, the majority of today's business happens using some form of technology whether it's a computer or mobile app. Yes, we realize that mobile sales are continually increasing year-on-year. However, we also believe that closing the laptop lid is just as important when attempting to market a home-based business.
For example, one great method of building your reputation and getting your name out there is with a seminar or a demonstration. Although you may have to pay for the venue and a few other bits and pieces, you can provide an interesting class, really show your knowledge, and become a leader within your market. As long as it isn't boring and it doesn't have the opposite impact, you can really play with your niche to get ideas.
If you're a local business, this could be pivotal to your success. Why keep your eyes on a laptop screen in a café when your potential clients are behind the screen and out in your community? If you've started a catering business, hold a cooking class in someone's home or at a local event. When you get creative, the results might just surprise you (and you'll be outdoing every competitor who isn't as creative as you!).
#5: Grow Your Network
With many home-based businesses, they make the mistake of constantly advertising to friends and family members. In the first few weeks, this can be a great tactic because it helps to get the ball rolling. However, are your friends and family still going to be funding your business in ten years' time?
If you're looking for referrals, we recommend visiting trade shows, joining your local chamber of commerce, looking for community groups, PTA meetings, and local civic associations. Over time, you'll build a real network of people who refer work to you. If you choose to pair up with somebody, make sure your services complement one another. For example, we recently saw a computer repair home business work together with a Mac repair home business. Whenever customers get in touch with something they can't help with, they refer the customer to one another; the relationship is mutually beneficial.
#6: MLSP
Get yourself some fantastic resources you can rely upon time after time; everything we've discussed so far is actually available on MyLeadSystemPro which is why it's our final tip. After signing up to this fantastic program, you'll have access to webinars, guides, lessons, and support on everything from social media advertising to managing your relationships with customers and everything in between.
FREE LIVE TRAINING THIS WED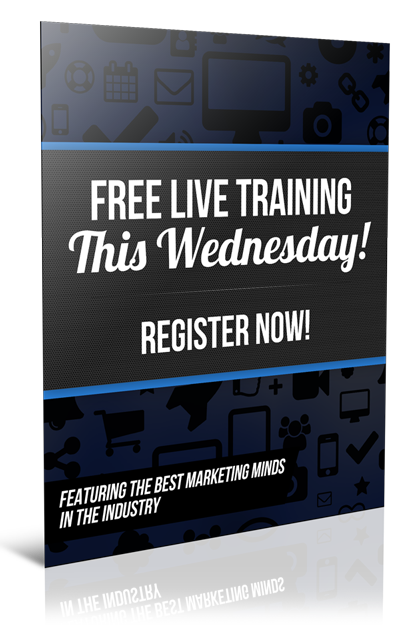 LIVE webinar with a 6-Figure Earner this Wednesday! Get strategies to help YOU get more leads & Profit in YOUR Business
In addition to this, MLSP also has a blogging platform which allows you to get your name out there by providing solid content. As you utilize key words and phrases, search engines will rank your blog higher and more visitors will find your site. With endless resources that are genuinely useful for creating a marketing strategy in 2017 and beyond, we recommend MLSP whole-heartedly!
Thanks for reading, we hope you can use our home-based business marketing tips to grow your business this year!
To All That Was Intended To Be!